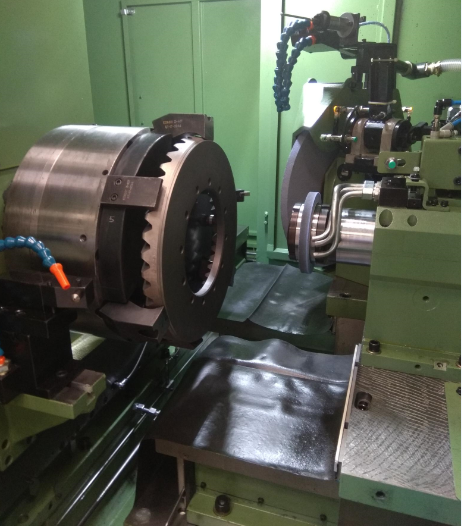 IG 150U SPM
Crown wheel is a crucial component in all commercial vehicles and it is one of the most stress-prone parts of a heavy-vehicle. Volvo Commercial Vehicles Limited (VE Commercial),
a joint venture between the $106 billion Volvo Group worldwide and Eicher motors Ltd., manufactures automotive products across 5 divisions in India.
VE Commercial was facing rejection of Crown Wheels since they were being manufactured by the hard part turning process.
VE Commercial's Challenge:
Crown wheels produced had defects such as flatness, inaccurate surface finish and poor tolerance
Heavy investments of efforts and expenditure incurred in detailed inspection of all the parts produced & rejections were resulting in high cost due to poor quality.
MGT's Solution:
MGT accepted the challenge of producing these critical drive-train parts demanding highest-quality, first-time-right from the machine without high inspection costs & rejections.
Hard turning was replaced by MGT's precision grinding solution to overcome this challenge.
Designers at MGT developed an indigenous CNC Universal grinding machine – IG 150U SPM for bore and face grinding to address the requirements of VE Commercial.
The Crown Wheels manufactured on MGT's IG 150U SPM matched VE Commercial's CTQ requirements of 10-micron flatness on an 80 mm long radial ground face reducing the rejection rate significantly.
Results achieved by IG 150U SPM
Result Achieved
Machine
IG 150U SPM
Operation
Bore & Face grinding
Stock Removal
0.3 mm on ID & 0.15mm on face
Flatness on front face
0.01 mm
Surface Roughness
0.6 µm Ra on Face
0.4 µm Ra in Bore
Face run out wrt to bore
0.01 mm
For customised solutions to niche problems, contact us at sales@micromaticgrinding.com