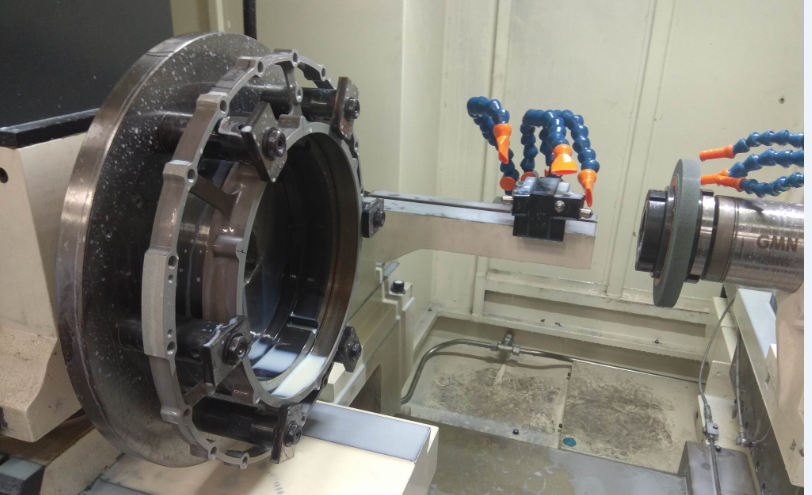 CNC Bore Grinding Machine
TEAL (Titan Engineering & Automation Limited), a subsidiary of Titan Company Limited which is a part of the $135 billion Tata Group, began its operations in the year 2005 and caters to top players in the aerospace industry. Over the past decade, TEAL has been manufacturing critical high precision aerospace components across verticals such as aircraft and its accessories, actuation, transmission, landing systems, and environment systems.
TEAL's Challenge:
Provide better surface finish and geometrical accuracies on hard chrome plated material – a unique material used in Aerospace
Stringent quality standards had to be followed for the components.
MGT's Solution:
MGT successfully designed a customised CNC grinding machine for Titan Aerospace that performed both cylindrical grinding and internal grinding operations.
The CNC grinder was able to efficiently manufacture RAM body, piston and ring as per the client's requirements.
It also used a special fixture to clamp the components to provide steady support & avoid part deformation during grinding.
This was the first time Titan entrusted an Indian group to manufacture their components, and MGT's indigenous solution helped Titan achieve their goal of Quality, Productivity & Cost effectively on a very difficult part. The cylindrical and internal grinding machine produced by MGT also solved the problems of surface finish, and geometrical accuracies on hard chrome plated components efficiently.
For customised solutions to niche problems, contact us at sales@micromaticgrinding.com