Best Kaizens of the Year Awards for 2016-17
MGT has launched a new "Employee Recognition Program" under the title, "Best Kaizen's of the year" Award. Objective of the program is to identify & recognize top 3 implemented suggestions during the last FY which Reduced Costs, Improved Quality, Delivery of the product/service resulted in significant improvement to workplace safety, Environment and wellness of MGTians. A committee has been formed to identify, assess and evaluate all the suggestions against defined criteria(QCDSEM).
During FY 2016-17 at Ghaziabad plant we had received total 1738 nos. of suggestions out of which approx. 75% (1288 nos.) were feasible. In feasible suggestions, 25 nos. of suggestions had been recognized in "A" grade during the year. Committee has selected & recommended below three suggestions for the "Best Kaizen of the year" Awards.
Optimum Equipment Utilization to reduce Carbon Foot Print by Mr Jitendra & Team
Value Engineering in MGT products by Mr NS Verma & Team
Reduced Spindle repairing time by Mr Rajeshwar Singh & Team
Besides, the certificates, Cash Awards of Rs. 10000, 7500/- & 5000/- were given to first, second & third team respectively.
Optimum Equipment Utilization to reduce Carbon Foot Print
Kaizen 1st Prize Award for the year 2016-17 goes to Mr Jitendra Singh & his PES Team
The Centralised AC unit installed at MGT Plant has a chiller line which includes Chiller Pump Motors. The motor power being used was only at 30 percent utilization even though the available motor power capacity was more.
To optimise the available motor power, MGT Maintenance team took the initiative and installed VFD to tune the RPM of Chiller Pump Motor to adjust the throttle valves to 100 percent. By installation of this system, the team was able to reduce electric power consumption by 60 percent, thereby contributing to reduced carbon footprint.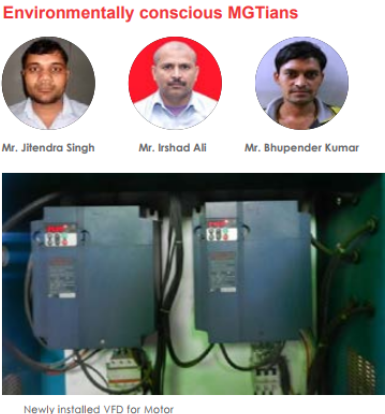 Value Engineering in MGT Products
Kaizen 2nd Prize Award for the year 2016-17 goes to Mr N.S. Verma & Team
MGT wanted to enhance productivity by upgrading quality standards for the bed assembly of heavy-duty hydraulic grinding machines. The Design team arrived at the idea of merging two parts i.e. carriage base with bed.
This resulted in multiple benefits:
Increased productivity (reduced lead time; now assembly takes 8 man-hours instead of 16 man-hours)
Consistent quality levels & Higher Rigidity achieved due to reduced number of parts
• Cost saving of Rs.15,000 per unit.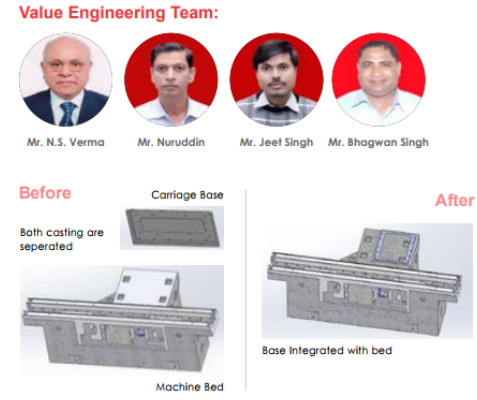 Reduced Spindle repairing time
Kaizen 3rd Prize Award for the year 2016-17 goes to Mr Rajeshwar Singh & Team
To help reduce downtime at customer's end, MGT was working towards reducing wheel head spindle repairing time. However, there were a number of issues that had to be addressed before achieving that. The old wheel head spindle bronze bush would get hard due to temperature. The old bushes were rejected in most cases and the customer was asked to pay for the new bushes. In the case of old bushes, the manual relief operation was time-consuming.
Finding a solution:
The Spindle Assembly and Machine Shop teams worked together to find the solution for preparing of profile in the old spindles on the SPM boring machine, just as being done for the new spindles. The Machine Shop team calculated and set the adjustments required to be done on the machine for the required operations on the old spindles.
Benefits:
• Time for manual work was reduced from 20 hours to 4 hours;
• Consistent quality level was achieved due to using the same manufacturing process as for the new spindles
• The problem of old bushes getting rejected was overcome, thus not only savings but applying the "Reuse" environ-friendly solution