Rotary disc dresser
This is a disc with diamond held in metal bond in multiplayer. The disc rotates at very high RPM for the generation of profile on conventional wheels. These dressing discs are also widely used for truing of vitrified CBN wheel.

Blade type diamond dresser
These are stationary dressing tools, having single layer of multi point diamonds rigidly held in a set pattern through a bonding system. These dressers are suitable for profile generation on conventional abrasive wheels but due to only limited no. of diamond points available, the life is limited & needs frequent replacement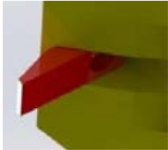 .Meeting the objective
The need was to achieve consistency in profile dressing with longer life of the dresser and grinding wheel. MGT's built-in motor-driven indigenously-made rotary disc dressing unit proved instrumental in getting the desired profile accuracies along with increased productivity. This unit can be mounted on the workhead or on the table of MGT Grinders as per the application requirement. RPM of the unit can also be programmed according to the need.